Description & Help Books320.com
We remind you that all materials presented on the website are intended solely for our subscribers. You cannot transfer them to anyone without our permission or post on the Internet. After you stop using them, you agree to delete them.
REGISTRATION
PAYMENT
DISCOUNT
COUPON
YOUR ACCOUNT
SHELF
BASIC BOOK FORMATS
AUXILLIARY BOOK FORMATS
BEB - BOOK READER
APPS BEB and BEBAndroid-mp3 INSTALLATION
VIDEO FORMATS
BOOK ID and SECTION DISTRIBUTION
FREQUENCY DICTIONARY

BRIEF VIDEO INSTRUCTIONS and HELP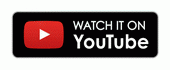 REGISTRATION
Registration is absolutely necessary to close pages intended for our visitors from search robots.
The registration is free and takes 10 seconds.
Most importantly, don't forget your username and password (use your name, surname, email, street/city/town name, pets name etc.)
If you have forgotten your login or password, write to babyenglish.best@gmail.com. We will restore access. But if you forget both your username and password, it will be impossible to restore access. And if you have any money on your account, they will be lost.
PAYMENT
Payment is made only through the payment system Fondy.eu. We cannot provide a high degree of security. Security is provided only by specialized payment systems, for which we pay them. Therefore, we have no access to the data of your payment card.
The base currency is the American dollar. Put in the window the amount in the USD.
You can pay by Visa or MasterCard card in local currency. Fondy supports payments in 154 currencies (List of supported currencies for bank cards processing
PDF file
).


Exchange rates (local currency to USD). The rates of the payment system may differ slightly from the rate of your bank issued the card. We give discounts that will block any difference in the rate.
Аpproximate prices in Euro and Ukraine grivna indicated on the website are for your information only.
FAQ ( frequently asked questions):
Do I need to register on payment system Fondy? - No, it's not necessary.
Where can I top up my account? - Button "Account"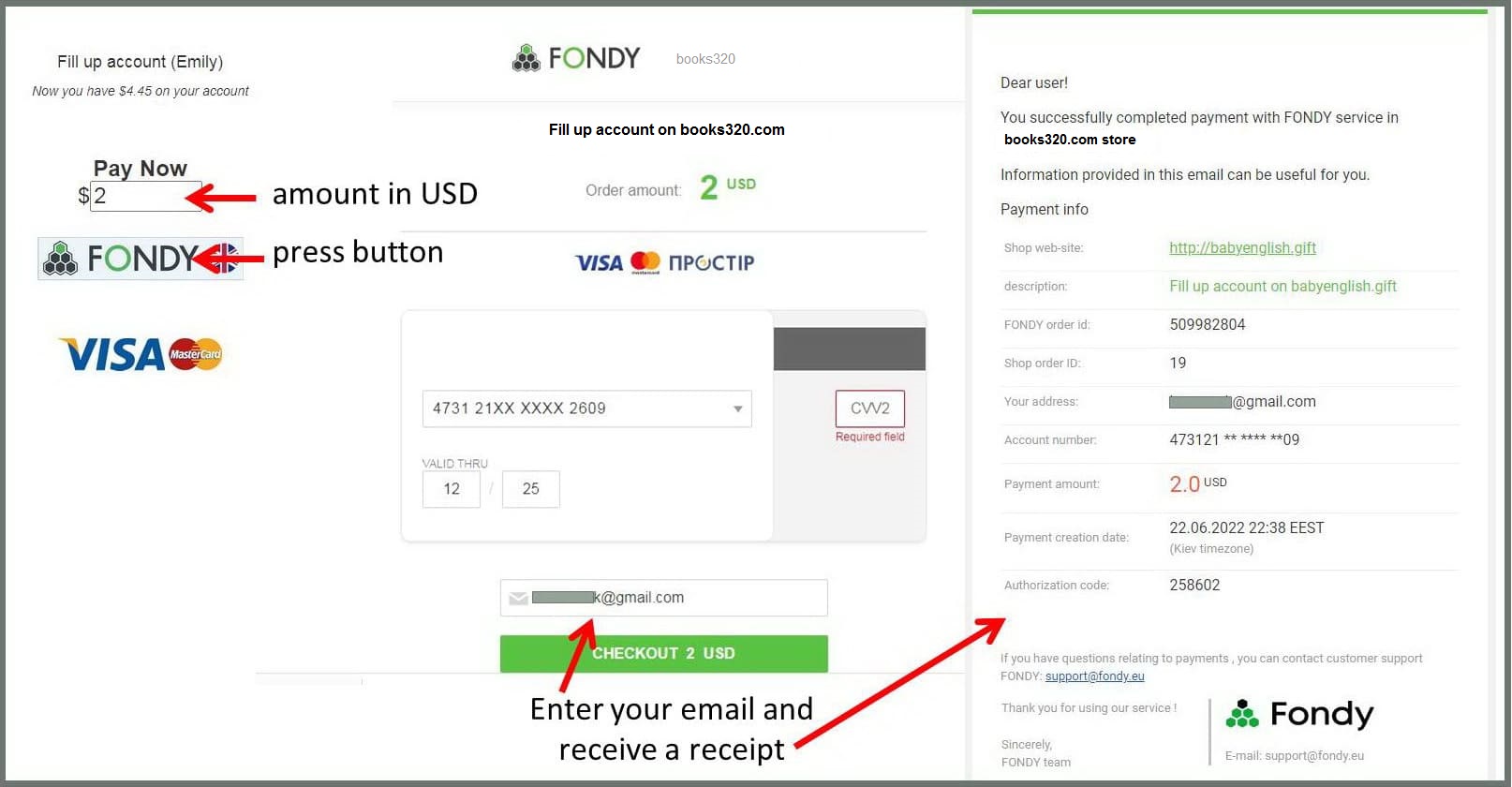 I can't pay by credit card. What should I do?
Main reasons:
1) Your Bank does not allow you to use Card for international payments on the Internet. This is a fairly common reason. You have to connect with a bank and open a card for international payment on the Internet.
2) You try to pay not VISA or MasterCard (for instance American Express). Fondy cooperates with Visa and MasterCard ONLY.
3) Your bank does not use 3Dsecurity technology and MasterCard SecureCode or Verified by Visa can't check your card. (Card was issued by a small bank). Try to use the other card.

We do not provide a refund system for paid materials. Section #1, websites
https://english320.com
&
http://education320.com
have enough free materials to get acquainted with our books, applications BEB & BEBAndroid-mp3. If any file is not working or has significant drawbacks, write books320@gmail.com. The file will be fixed in the shortest time and replaced on your shelf.
DISCOUNT
Standard Discount: if the order more than 15 USD - 3% | more than 30 USD - 5% | more than 60 USD - 10%
COUPON
If you deposit more than $25 on your first purchase and you have a $10 coupon, please send this coupon to emilybooks320@gmail.com with your username. Within 24 hours, your account will be increased by $10. The coupon can only be used on the first deposit.
You can transfer the coupon to your friends and acquaintances. They can use the coupon just like you (over $25 deposit, email with coupon and login). Their account will be topped up with $10.
YOUR ACCOUNT
For example, if you top up your account with $10 and buy books for $8, your $2 is stored in your account and you can use it for your next purchase.
Important note for registered users:
If you are entered into the section #1 and do not see your shelf and account, go to the section #2 under your login, and then return to the section No. 1.
SHELF
As soon as you have paid for renting a book, a set of books, videos, they immediately appear on your personal page "SHELF", and are stored there indefinitely. It's comfortable. You do not need to store everything on your computer. For example, you can download the book to the tablet, read and delete it. After a while, you will need it again (children like to reread and it is useful). You can go to the "SHELF" and download again.
BASIC BOOK FORMATS
BEB
The format is intended for installing books on a computer or laptop. And also for parents whose children are subscribed to the BabyEnglish.best website, to install books on the computer's hard drive (from the parent section) with the child creating the illusion that he sees this book on the Internet.
BEBAndroid-mp3
- Baby English Best Application for Android. Looks exactly the same as on the computer. Just the application is adapted for Android tablets and phones.
AUXILLIARY BOOK FORMATS
BEBAndroid
- The same format as above, only the book without sound.
PDFmp3
- For computers. Opens in Adobe Reader. A sound file is built into the PDF file. Click on the icon and the announcer pronounces the sentence or phrases (but not more than the text located on one sheet). Convenient for learning a language by a child. Especially when he is already learning to read.
PDF
- Same format as above, only a book without sound files.
Video Book
- The book is translated into Video format MP4 with good resolution 1280x720. Very convenient (when you are limited in time) - put the flash drive on the TV and the child listens and watches.
Free bonus formats ( (mainly for books in Russian)
These formats for children are not very convenient and interesting, but if you are reading to a child, maybe they will be useful.
FB2 - A popular format. It is read by all Russian electronic books and many programs. ZIP-archive.
EPUB - A popular format. Suitable for iBooks and most applications for reading.
RTF - For computers. You can open it on any computer. ZIP-archive.
HTML - For computers. You can read the book right in the browser. ZIP archive
iOS.EPUB - For devices. EPUB, adapted for the iPhone and iPad.
PDF A6 - For devices. Optimized for small screens.
MOBI - For devices. Suitable for Amazon Kindle e-books.
FB - For devices. Perspective innovative format.
TXT - For devices. You can open it on almost any device. ZIP-archive.
JAVA - For devices. Suitable for push-button phones.
All applications for reading books in these formats can be downloaded on the Internet (mostly free of charge)
BEB (Baby English Best) BOOKS READER

The player is turned off.
You can turn the pages in manual mode and read.

Click
'Play'
. Letter
'A'
– Automatic mode
Pages turn over automatically and the announcer reads a book. It's great solution before bed.
The Pause button can temporarily interrupt the listening. By clicking on the
'Play'
button, the playback will start from the place where you left off.

Click the
'A'
button. The
'М'
button - the player works in manual mode - the pages will have to be turned over manually.
This mode is extremely important and convenient for learning English. You can listen and read this page again and again.

Click
'Play'
. The letter
'М'
– Manual mode.
The announcer reads to the end of the page. The
'Repeat'
button appears when the page ends.

Now you have a choice:
Turn the page and start listening to the new sheet OR press the
'Repeat'
button and listen to the current page again.

Current page / number of pages.
Put in the number in the box and pressing 'Enter'. You will go to the specified page (real page maybe 1-2 pages more than the page number of the book).
If you return to the "Reader" after a break, the page you left on will open.
If this is a set of books, or the book is divided into chapters, at the end of the automatic switching to the next book or chapter.
APPS INSTALLATION
BEB application.
Download the file mybook.exe
Click on the file to start installation.
Select a drive to store books.
Continue installation.
After the installation is completed, the mybooks.exe file can be deleted (it is saved on your shelf).
Adding books to your library
Download the ZIP file with the books. Sample filename: 110044_word_families_1_PDF.zip
Transfer this file to the MyBooks folder.
Extract (unzip) the book(s) into this folder.
ZIP file can be deleted.
BEBAndroid-mp3
Download the 'apk' file to your tablet.
Click on it.
Confirm the installation.
You can delete the installation file (apk) after installing the book set.
VIDEO FORMATS
Video file format MP4, 1280x720 or 1920x1080. Should be played on any computer, tablet and phone.
BOOK ID and DISTRIBUTION BY SECTION
The first two digits of the Book ID may be useful to you.
The first digit indicates the language of the book: 1 - English, 2 - Russian, 3 - French, 4 - German, 5 - Spanish, 6 - Ukrainian.
The second digit indicates the age of the child: 0 - from a year to 3, 3, 4, 5, 6, 7 - from 7 to 12, 8 - 12+, 9 - textbooks and manuals.
The distribution of books by sections is sorted by age, and not by the level of knowledge of the language. For example, in the 5+ section, there may be books that, in terms of language, are not for beginners and in section 12+ books for beginners learning English.
FREQUENCY DICTIONARY
Frequency dictionary with easy word search. The word is voiced by male and female voices, dictionary entry (PDF file) with examples.